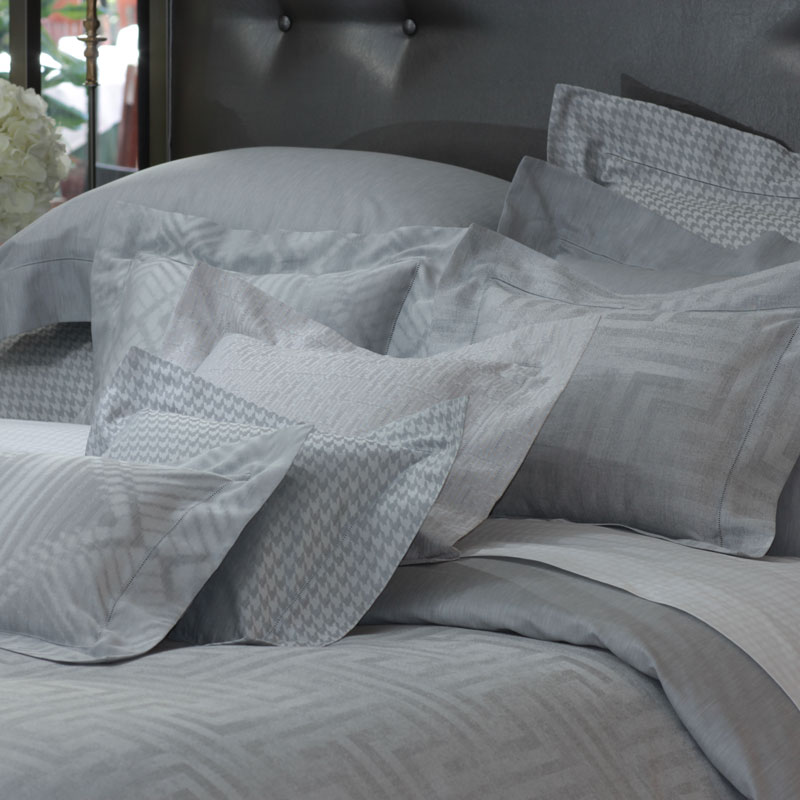 ABOUT COTTON
Fiber Quality: The highest quality cotton is long staple cotton. Staple refers to the length of the cotton fiber; the longer the fiber the better because it creates stronger and finer yarns.
Yarn Size: The fineness of each yarn is what the term yarn size refers to; the higher the yarn size, the finer the yarn. Finer yarns allow for lighter, more supple fabric and more yarn can be woven into a square inch.
Finishing: The finishing process is vital in avoiding piling and increasing strength, luster, touch and appearance.
THREAD COUNT
Thread count is simply the number of threads per square inch of fabric. These consist of vertical threads (warp) and horizontal threads (weft) woven together. Construction refers to how the thread count is achieved. The best fabric would be made with single ply yarns and have a single pick; but the highest thread count you can get with this type of construction is about 400. Above that, 2 ply yarns and/or multi picks must be used thus resulting in exaggerated thread count.
ABOUT SILK
The Natural Choice
Silk is one of the oldest textile fibers. Pure silk is the queen of all natural fibers and has an important place in our modern world as we embrace all natural products. The organic structure of silk is very similar to human skin, allowing your skin to breathe. Silk has the ability to absorb moisture, making silk cool in the summer and warm in the winter. These factors contribute to a relaxing, healthy sleep. Imagine the smooth, soft touch, beauty and elegance of silk as you review this luxurious product line that includes silk bedding, silk and down filled comforters .
PLEASE NOTE; VERSAI'S COLLECTION OF SILK BEDDING OFFERED HERE IS MANUFACTURED BY ONE OF THE OLDEST AND MOST REPUTABLE SILK PRODUCERS IN GERMANY. IT IS 100% WASHABLE . IT CAN BE USED AND WASHED REGULARLY AS NEEDED LIKE OUR COTTON SHEETS.
ABOUT DOWN
It's Not Just a lot of Fluff
While down comforters, mattress pads, and pillows may all appear similar from the exterior they are not; it is what is inside that really counts.
The highest quality down originates from the belly and under wings of mature white geese raised and bred in the cold Siberian and Hungarian climates known for their resilient down. A special gathering process ensures larger, stronger down clusters to provide superior loft and insulating properties for those who seek weightless warmth.
Down is a natural insulator and retains body heat in the harshest climates. It is practically lighter than air, allowing it to instantly adjust to your body temperature and ensures maximum breathability year round.
Fill Power
Down clusters are graded according to their fill power or loft, which gauges its ability to regain its original volume or loft after being compressed. The higher the fill power, the loftier, lighter and warmer the comforter. VERSAI's high fill power DOWN translates into a superior product that delivers a more comfortable night's sleep for many years.
Our hypoallergenic cleaning and sterilization process removes dust, dirt and other impurities that may cause allergic reactions; a unique washing and rinsing process guarantees that all VERSAI products are thoroughly cleaned.
DOWN ALTERNATIVE
VERSAI offers five different down alternative filling options in the VERSAI Alternative Collection.
The finely spun Microfiber filled Alpine Loft Comforter is an affordable option in all natural bedding for those who are allergy sensitive to down products, but still want the luxurious feel of down.
Natural Down Alternative Comforters – Four Natural Down Alternative Options Imported from Austria.
The Eco Friendly Lyocell/Tencel® cover and fill offer moisture control and temperature regulation characteristics. They can absorb more moisture than cotton, having a cooling effect when temperatures are hot and a warming effect when it's cold, ensuring maximum comfort.
The Natural Silk Filled comforter is light and very supple, and constantly equalizes temperature. The natural silk filling has natural cooling properties. Degummed silk threads have a very high permeability to air. Silk absorbs moisture well and quickly, and releases it just as quickly for fast drying.
The Maize Fiber Filled comforter has natural cooling properties and amazing moisture absorbing abilities for a dry sleeping environment. This comforter is more suitable for those who enjoy the snuggly comfort of a thicker comforter.
The Summer Linen Filled are a great option for those with high body heat or who live in a warmer environment. This lightweight comforter provides excellent insulation for the colder months and offers cooling properties for the warmer seasons, making it a great option for year round use. The natural linen fiber is breathable, wicks away approximately three times as much moisture as cotton, and offers natural cooling properties.